2020 Special Olympics Polar Plunge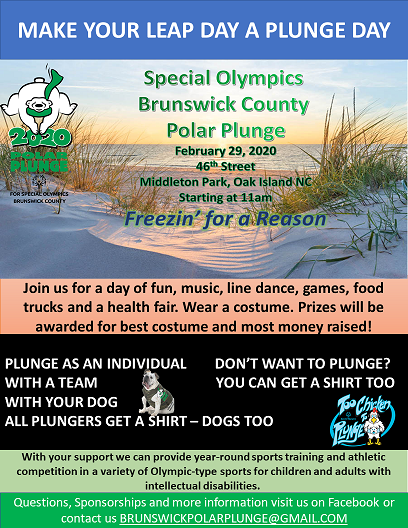 Special Olympics Brunswick County is proud to announce that we will be holding our first Annual Polar Plunge fundraising event on February 29, 2020 at Middleton Park on Oak Island.
Special Olympics Brunswick County supports hundreds local athletes with intellectual disabilities in Basketball, Softball, Bocce, Golf, Cycling, Soccer, Tennis, Bowling, Cycling, Swimming & Volleyball. Some of these athletes compete in the State Competitions versus other counties to qualify for National and International Competition. Others compete in the annual local Spring Games or during school sports clinics.
Join us for a day of fun, music, line dance, games, food trucks and a health fair. Wear a costume. Prizes will be awarded for best costume and most money raised!
Make sure you all "Save The Date, February 29, 2020: Freezin' For A Reason" to benefit Special Olympics Brunswick County. Too Chicken to Plunge? No problem, we have a way for you to participate as well.
To register for this year's Polar Plunge or for more information, Please

Click Here!
To join the Special Olympics Facebook Page, Please Click Here

.